CHAD VANGAALEN / HAWKSLEY WORKMAN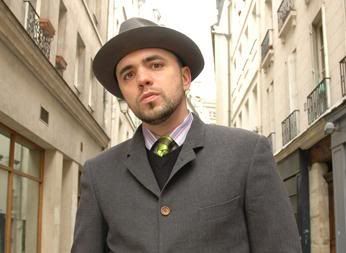 At 9:30PM in the evening, an hour and a half past the proposed start time of 8PM, Chad Vangaalen walked on stage and stated that he had been at the Antony and the Johnsons show down the road. Supposedly it was a great show which presumably started on time as well, and Chad proclaimed that if Antony would have only shit in his mouth and he stand in front of us his mouth full of feces, it would be better than anything he or his band could do. It was hard to reconcile this humble statement with perhaps arrogant tardiness, but it passed as the band noodled for 15 minutes as Chad's cartoons played on projectors to the left and right of the stage. It was a good set, the sound was excellent, and Mr. VanGaalen hit all appropriate markers such as Willow Tree and City of Electric Light, albeit in subdued manner throughout the 45 minute block. The bassist was wearing a button up shirt unbuttoned with a T-shirt underneath. I don't get that.
For a man I only know as the fellow who proposes that I/you "Striptease for him in a house by the tracks," I was surprised at how much I was drawn into Hawksley Workman's incredible rapport with both crowd and band. With booming bass and drums he sang the concert to a start with a track of aging over a pot of soup. A metaphor surprisingly powerful after only one Gin and Tonic. The entire evening was filled with anecdotes of mirth, though as the evening wore on, his indulgence of stories, and his constant feigned(?) surprise at the adoring, lyric singing choir in front of him wore me down. Perhaps like the guy who you want to have at the party, but you don't want to hang out with him for much longer than 2 hours. Maybe not a perfect analogy, as I know of few friends who goose step around my house with a guitar in arms and earpiece in ear, but I imagine you know where I am coming from. I ain't a fan, so I can't quote lyrics or song titles, but I was done by something like the 8th song. There was probably double that. It was great until then though. So good show?
Tags: 2009, Cartoons, Chad VanGaalen, Cultural Olympiad, Hawksely Workman, Los Manlicious