Monday, September 28th, 2009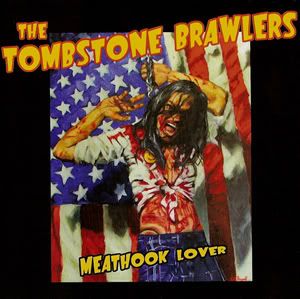 The Tombstone Brawlers, NY/NJ's premier psychobilly outfit, has been kicking ass and taking names since the mid 90s. With influences such as Johnny Burnette, Link Wray, and the Stiff Little Fingers, the Brawlers are not your average bar band. They've toured Europe with the Caravans, co-headlined The American Nightmare Festival in L.A. with the Phantom Rockers.
Their debut album, "Scary Movies," proved that the Brawlers are definitely a force to be reckoned with. The band's second full length album, "Meathook Lover," is scheduled for release in late Summer 2006. Also be on the lookout for "God Save the King," a psychobilly tribute to Elvis, on which The Tombstone Brawlers will perform "Blue Moon of Kentucky," featuring Nigel Lewis on vocals.
The ferociousness of a live Brawlers performance is worth its weight in bricks. The Tombstone Brawlers are bringing the guts and the grit back to a music scene where punk has become safe and underground has become mainstream. You'll sweat, you'll swear, you'll love them or you'll hate them, but, at the end of the night you definitely won't forget them.
[From the band's online bio]
Psycho Radio host Amos Evans spoke to Lord Zacher on the phone to discuss upcoming plans, the state of psychobilly on the east coast of the U.S. and the finer points of living in rural New Jersey.
Download the MP3 of the interview with Lord Zacher HERE.

Subscribe to our CIVLCast Programming HERE :